If you live in South Mumbai, driving up to the Chhatrapati Shivaji International Airport is an 'experience,' especially at night.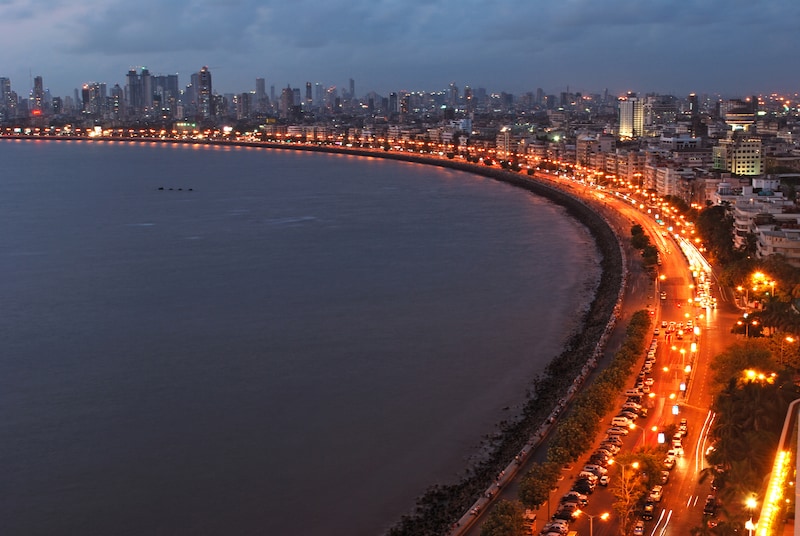 As you make your way to the airport, you cross Marine Drive, or the Queen's necklace, as it is called due to the string of lights that create the image of a pearl chain at night. A popular spot for people of all ages to for enjoy a walk or just sit and take in the sea breeze. Marine Drive connects Cuffe Parade to Breach Candy, shortening the time it would take to drive to the airport. Once you get through Worli, you are met with the majestic Bandra-Worli Sealink, a transea bridge, which provides you with a beautiful view of the Mumbai skyline.
Finally, when the car first pulled into the Chhatrapati Shivaji International Airport, I was floored. India is a culturally diverse country teeming with architecture from both present and centuries past, but I have never seen a modern piece of architecture as grand and majestic. Lit up in the distance, I could see tall, white, towering pillars rising from the ground canopied by a massive roof.
Pulling into the airport I could admire the pillars and immediately recognized their resemblance to India's national bird, the peacock (though the white color of the concrete is more like a peahen, a multicolored pillar probably would not have looked as sophisticated).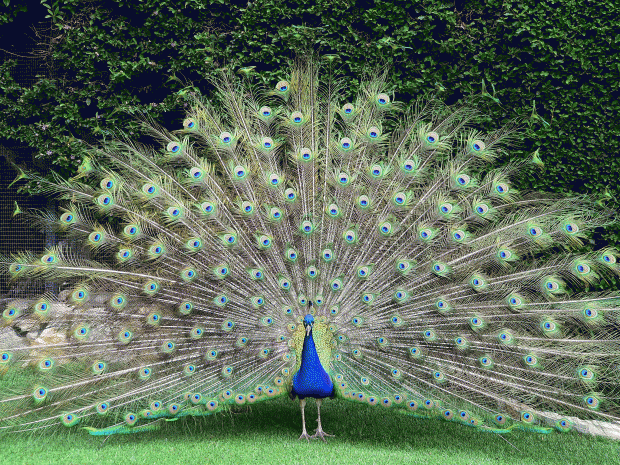 I could continue ad nauseam about the interior of the airport, but since I've already covered that, I would like to talk about what aspect of this building impressed me the most.
THE LIGHTS
In India, most international flights happen at night, due to international flight time scheduling being centered around convenience to major European and American airports. So, if you've ever visited this airport, chances are that you have seen it in its ultimate form, a grand showcase of light reminiscent of all the fireworks during the Indian festival of Diwali. The warm and bright yellow lights scattered throughout the airport makes it feel cozy, and almost prepares you for a long night's journey.
If you look at the images above, you will see a lot of floral patterns. The repeated motif of flowers once again reflects an emblem of India, its national flower – the lotus.
As soon as I saw these lights, I quite forgot about having to trek through airport security and duty-free before finally reaching my terminal. These lights are so beautiful in-person, more than a picture could ever depict. Not only are these lights intricately designed lotus, they represent the various stages of blooming of the flower. Below is an extract from their website:
"CREATING A METAPHOR
The exceptionally complex design of the lights was inspired by a lotus flower with its petals in different stages of bloom, from closed to blossoming to fully open. A hand-blown "open hourglass" piece sixty centimeters in height, the production of which requires exceptionally skilled and experienced glassblowers, forms each light's center. Equally difficult, the flower's petals are made of naturally finished brushed aluminum that had be laser-cut and shaped to perfectly express the designers' vision." [9]
I believe that these lights in combination with the pillars make the building the architectural marvel that it is. The tall pillars of the peacock represent India's ability to stand tall on an international level, and the blooming lotuses represent its progress as a nation, and the beauty of this diverse country. At least, that's what I like to believe. Each corner of this building gave me something to appreciate. This building was masterfully crafted to give passengers the full experience of an airport in a linear and straightforward manner, but it was designed to be a piece art and architecture, to show the world what India is all about. My first experience at the airport was an enjoyable one, but in hindsight I realized that while this building stands as a testament to Indian pride, the project was outsourced to an American company. Can they really capture our culture? Well I think they did a pretty good job with it.
(As a sidenote: The walk back from the terminal to baggage claim is way too long, because of the shape of the building).
---
Citations:
[1] Vasanwala, Batul. "10 Unique Facts About Marine Drive In Mumbai." Yatra. N.p., 12 Oct. 2016. Web. 26 Sept. 2017. <https://www.yatrablog.com/10-unique-facts-about-marine-drive-in-mumbai&gt;.
[2] Wikipedia contributors. "Bandra–Worli Sea Link." Wikipedia, The Free Encyclopedia. Wikipedia, The Free Encyclopedia, 8 Sep. 2017. Web. 27 Sep. 2017 <https://en.wikipedia.org/w/index.php?title=Special:CiteThisPage&page=Bandra%E2%80%93Worli_Sea_Link&id=799630373&gt;
[3] ibid.
[4] ibid.
[5] N.a. "Chhatrapati Shivaji International Airport Terminal 2." ArchiExpo. N.p., n.d. Web. 28 Sept. 2017. , <http://projects.archiexpo.com/project-25828.html.&gt;
[6] ibid.
[7] Khan, Shehab. "Entire village hunting for killer of favourite peacock." The Independent. Independent Digital News and Media, 04 Oct. 2016. Web. 28 Sept. 2017. <http://www.citationmachine.net/bibliographies/230480470?new=true&gt;
[8] "Press releases." Cathay Pacific Airways shifts to the new International Terminal 2 at Chhatrapati Shivaji International Airport in Mumbai. N.p., n.d. Web. 28 Sept. 2017. <https://www.cathaypacific.com/cx/en_IN/about-us/press-room/press-release/2014/csia-new-international-terminal2-mumbai.html&gt;
[9] By Tapas1978, Dreamstime Photograph, Dream Photograph By Calee Allen, Photograph By Jupiterimages Photolibrary Gety Images, Shutterstock Photograph By Photobank, Dreamstime Photograph By Murali Nath, Dreamstime Photograph By Nah Ting Feng, and Dreamstime Photograph by Kaphoto. "Diwali – Festival of Lights." Kids' Games, Animals, Photos, Stories, and More. N.p., 23 Oct. 2014. Web. 28 Sept. 2017. <http://kids.nationalgeographic.com
/explore/diwali/#diwali_candles.jpg>
[10] 
N.a."Mumbai Airport India." Preciosa Lighting. N.p., n.d. Web. 28 Sept. 2017. <https://preciosalighting.com/unique-installations/mumbai-airport&gt;
[11] N.a. "Nueva Terminal." Blog sobre negocios en India – INDOLINK Consulting. N.p., 25 Feb. 2014. Web. 28 Sept. 2017. <https://indolinkspanish.wordpress.com/2014/02/05/nueva-terminal-world-class-para-el-aeropuerto-de-bombay/&gt;